Home dazzle me, submit Archive Random RSS
Hollywood, CA.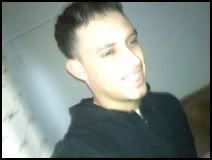 CSUN
FC Barcelona/Boca Jrs./Argentine National Football Team/Lakers/Dodgers/Philadelphia Eagles/Duke Basketball
The Great Gatsby this Friday!!!!!!!!!!!
(via janell-victoria)
Girl in my CAS class that sits behind me, I think your laugh is beautiful. It's loud but not abnoxious…just cute! And you're cute. And the sweatshirt you were wearing was one of the best I've seen at CSUN. And the fact that you read makes you that much more attractive. We should have talked sooner!
Wednesday May 8th

My friend said that today is text your ex day. I think he was lying, I have no idea. Is it??? Either way I will not text my ex('s) because I decided to delete their numbers. Such a bad-ass I am right? ahah no but seriously is it text your ex day???
Tuesday May 7th

Skipping my last class because I'm a fucking rebel! No I'm not. But I am skipping
Tuesday May 7th

oh stop it you
(via elanalei)